More Information
Australia
Mike Ball Dive Expeditions
Australia & Mike Ball: Mike Ball Dive Expeditions operates exciting 3, 4 and 7-night expeditions departing from Cairns to some of the best dive sites on the Great Barrier Reef and the Coral Sea in Australia. Enjoy spectacular biodiversity on the northern Great Barrier Reef including the world famous Cod Hole, or venture out into the remote Coral Sea for exciting big fish action, shark encounters, and excellent visibility. Mike Ball's procedures allow greater freedom for divers with an 'open dive deck' policy resulting in no restrictions on bottom time. Experience this amazing adventure down under as a family on Mike Ball's Spoil Sport.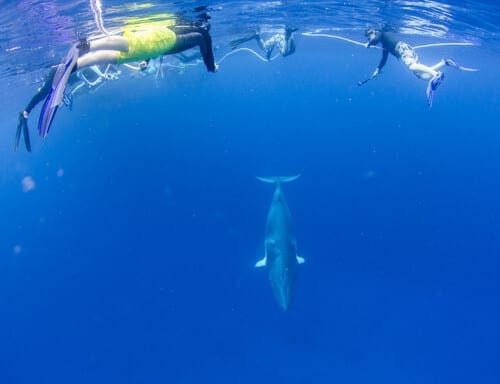 The Vessel: Spoilsport is Australia's most awarded liveaboard dive boat. Custom built to provide superb dive and guest facilities, Spoilsport has a twin hull design which maximizes stability and passenger comfort in all conditions. Measuring 30m in length, Spoilsport has a dedicated crew of 12 people including the dive team, Master, chef, and host. Spoilsport was designed to provide divers with a new level of comfort and convenience.
You get less rock'n'roll with more space and comfort. They have everything you need for a comfortable, enjoyable liveaboard dive expedition. Guest cabins are a combination of double and twin share. All are air-conditioned and are serviced daily. Relax in the spacious lounge/bar inside, or head up to the sun deck and enjoy the view over the Coral Sea. Their award-winning food and service cater to all dietary requirements. Your chef prepares all meals fresh and vegetarians are well catered for with their own dedicated menu. There is a reason Spoilsport is Australia's most awarded diving liveaboard!
Check out the Family Dive Adventures Australia Gallery
Activities: Some top-side activities include a tour of Lizard Island on the Coral Sea Safari trips. See where the famous English navigator James Cook climbed in 1770 to find a way out of the labyrinth of reefs. Naturalist Joseph Banks lamented in his log that he had too little time to study the wealth of strange creatures he saw in the waters of the Great Barrier Reef. Also included is an Aussie BBQ party night, get ready for some great nibbles and champagne as they stop off at Lizard Island and enjoy the view! Snorkeling aplenty with diver size potato cod.
Packages per person:
Daily serviced, air-conditioned accommodation in twin/double cabins for 7 nights

3 delicious meals & snacks, complimentary soft drink or wine with evening meal

Tanks, air fills and weight belt

Reef ecology programme

Dive computer workshop

Cultural and historical walking tour of Lizard Island (Coral Sea Safari guests only)

Transfer to either our office, the airport or inner city hotel after your expedition

4 dives per day + night dives (Depending on the week)

Scenic flight to or from Lizard Island (Fly Dive itineraries only)
From $3,704 pp + environmental management fee and other onboard fees
*Above package is based on Coral Sea Safari w/ Budget Accommodations- Contact us for liveaboard schedules & other excursions*
---
Getting there
Which airlines can you fly from east coast of Australia to the United States, either non-stop or with just one stop en route to your destination? Basic to this survey is the assumption that a one-stop flight will continue aboard the same airline, and only routes via the Pacific are included, not those via Asia (which would require some backtracking).
THE ROUTE: Non-stop from Los Angeles
WHO FLIES DOWN UNDER?
Virgin Australia International (To Sydney and Brisbane)
Virgin Australia business class, Qantas (To Melbourne, Sydney, and Brisbane)
Qantas premium economy American Airlines (To Sydney only)
United Airlines (Sydney and Melbourne)
Delta (To Sydney only)
HOW LONG DOES IT TAKE? 14-15 hours from LAX
WHY YOU WOULD: Strong competition on this route keeps fares low. Los Angeles is the major hub on the West Coast, with frequent flights to destinations throughout the US and a wide choice of airlines.
---
Contact Family Dive Adventures directly for current information and pricing. Pricing is not guaranteed until paid in full. Package prices may not include some or all of the following: departure tax, round-trip airline reservations, luggage fees, gov't taxes, port taxes, fuel surcharges, and marine park fees. These are beyond our control and generally payable to the vendor directly. Family Dive Adventures and its agents act solely as a reservation service for selected suppliers and operators. It is your responsibility to provide proper documentation for international travel. We highly recommend DAN Trip Insurance and DAN Dive Insurance.