How Kids Sea Camp changed my life
As a kid, diving kept me far away from TV and video games for most of my summers. I made friends in many countries around the world. I've kept in touch with most of them, and some have become my closest friends.
Growing up at Kids Sea Camp (KSC) has shaped my life in so many ways and contributed to who I am today. I experienced diving with marine animals in the open ocean and learned over the years how to respect them and protect them. I have learned how fragile coral reefs are and how hard it is to educate people about pollution and overfishing.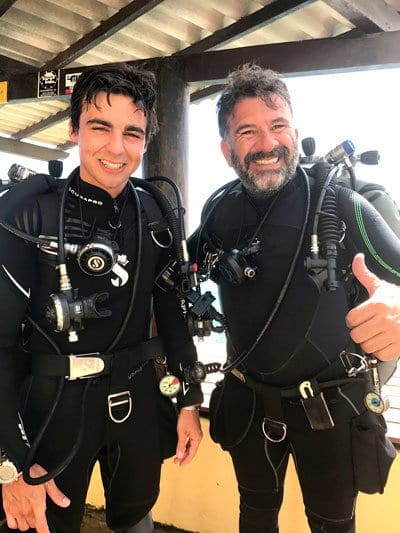 Through KSC, I have learned about endangered marine animals and that ingesting plastic is a major cause of death for many. Most people do not realize why it's so sad to put citations in captivity. Dolphins and whales have families and friends just like we do. They have a sophisticated language and human-like emotions. I had never given a thought to what it would be like to be taken from my home and put in a tank never to see my family again. I enjoy diving because I'm a guest in their world, they are not on display in mine.
I started my career as a SASY at age six and overcame any fears I had of the water. By age eight, a PADI Master Seal diving Stingray City in the Cayman Islands. Learning to dive gave me confidence in myself. Learning skills and good buoyancy provided comfort underwater. My Jr. Open Water certification was in Curacao. At the age of 10, I had logged more than 40 dives.
The cool thing about traveling with my family is that each destination offered new adventures and continued training. Traveling with other families is never boring. As I grew up, so have all the courses, activities and other kids I have traveled the world with. Kids Sea Camp creates advanced itineraries to new destinations every year. There is so much offered now, like jungle biking, zombie dives, liveaboards Citizen Science weeks, photography and advanced training.
For 17 years, KSC has been giving away Sealife cameras to kids, providing video and still Micro HD cameras along with in-depth photo classes. They document their trips as I have, taking fun photos of dive buddies and marine life over the years.
My passion is diving, obviously inspired by my mom. I became a PADI OWSI instructor in 2014 with over a 1,000 logged dives. I completed my MSDT, Tec 40, 45 and 50 at Buddy Dive Bonaire in 2016. Now 22, I will complete my Tec 65 Trimix this year in Grand Cayman. That is the highest Tec rating PADI offers in diving.
Technical diving means going beyond recreational scuba diving limits. But I say that it's really about the extreme challenges and excitement of exploring places that few people have ever seen.
In Bonaire at Buddy Dive, we now offer PADI PRO and Tec courses like I did. I am in college too, but I teach at Kids Sea Camps with my family during select trips. I like teaching the next generation of divers. People ask me all the time which KSC destination is my favorite. I can't answer that question because they are all great.
It's the families who travel with us around the world that make each trip so unique and memorable. The Philippines, Indonesia, and Palau are a long way to travel for many families, but experiencing the people, food, history, culture and the diving make it so worth the travel. Diving deep wrecks, experiencing big sharks, mantas and pristine rarely dived walls or reefs is living the dream.
My mom has been a dream maker for 30 years. She is in the Women Divers Hall of Fame for creating safe places for families to dive together. Kids Sea Camp more than 6,000+ PADI certified kids and not a single dive accident. That is due impart to my mom's amazing tenacity.
My mom could not have created KSC by herself. She has had a little help from her friends. Mom has been close friends with Paul and Michelle Coolen from Buddy Dive, and Marc Bauman with Sam's Tours is like a brother to her. When Carolyn Pascal was the publisher of Sport Diver Magazine, she loved mom's idea so much, she told the whole world about it. Mom practically grew up in the Cayman Islands; where I was born. She has strong personal relationships with all the resort owners and dive operators she works with. She says they are her extended family, and they always have each other back.
My sister, Jen, is a PADI OWSI instructor, She is 21 years old now and in vet school. Jen and I have grown up traveling the world and it's kept our family closer. I hate to take all the credit, but I'm sure we were 100% the inspiration for mom creating Kids Sea Camp. We have had the best life, growing up under the fins of so many amazing people.
One of my favorite parts of the trips is watching the talent presentation at the end. Listening to families sharing their experiences, parents, and kids read poems or do a skit or sing songs.
I am looking forward to running my own trips for Family Dive Adventures, a division of Kids Sea Camp, that caters more to custom trips. I want to take divers to the Sea of Cortez, Galapagos, Palau and many of the more advanced dive destinations. My favorite dives are black water night dives, shark dives, wreck and Tec dives. I am very grateful for all the international friendships and the incredible opportunities those friendships have afforded me over the past 23 years.
A special thank you to PADI for sponsoring me, to Buddy Dive Bonaire, Paul Coolen, Mr. G and most importantly, the biggest thank you to my parents for always having my back and for putting such inspiring people and places in my path.
By Robert Peyton, PADI OWSI #340202