More Information
Turks and Caicos 2020
Sail aboard the luxury appointed Turks and Caicos Explorer II
June 20th to 27th, 2020 Family Dive Adventures group trip: 20 divers/ 10 Cabins
Enjoy every day exactly as you wish while exploring the underwater worlds most beautiful places. We are taking you on a luxury private dive yacht cruise through the Turks & Caicos aboard The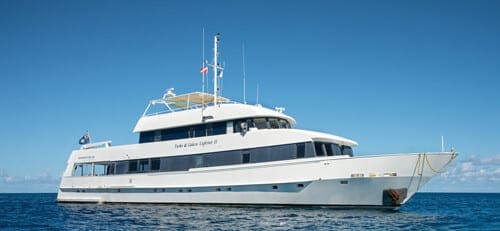 Turks & Caicos Explorer II. Allow us to take care of every detail of your dive trip as you enjoy spacious cabins and dive in the company of an intimate group of newfound friends.
You really can have it all on a dive cruise. This yacht was designed to be a luxury yacht/charter dive boat that quietly cruises the glamorous seaside getaway, taking you to the best diving all 3 islands have to offer.
Family Dive Adventures is privately escorting this cruise to capture the essence of a family floating along easy dives, warm water, calm seas and pampered VIP service for all.
This luxury vessel carries up to 20 passengers and 8 crew. All staterooms throughout the vessel have portlights or windows, individually-controlled air-conditioning, and private ensuite bathrooms.
A comfortable full-width salon, located forward of the spacious dive deck, provides seating for all guests at once, a wet bar, and an entertainment area with DVD and CD stereo. The boat deck, one level up, has ample room for sunning and relaxing; the flybridge includes a wet bar and comfortable seating for up to 15.
The two VIP staterooms located on the upper boat deck, as well as the two forward staterooms on the main deck, are equipped with TV/VCR.
The Islands and the diving
The Turks & Caicos Islands are located 575 miles southeast of Miami and were first populated by the Lucayan or Arawak Indians. Columbus claimed the islands for Spain in 1492, which then in 1670 ceded them to Britain. Dependencies of the Bahamas until 1874, the islands were subsequently controlled by the Jamaican government. In 1962 the islands became a British Commonwealth Colony, which they remain today.
Casual attire is appropriate on board, as well as throughout the islands. The US Dollar is the official currency of the Turks & Caicos; power outlets and 115-volt power are the same as in the USA. Passports are now required for all visitors; an ongoing or return ticket is required.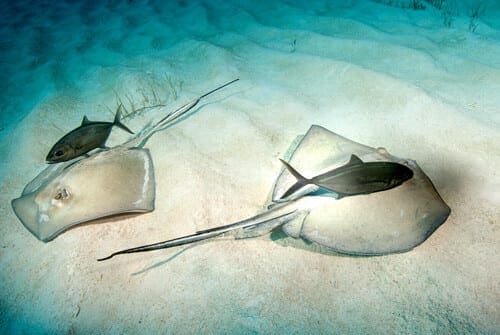 Located 575 miles southeast of Miami, the idyllic islands of the Turks & Caicos sit surrounded by turquoise waters containing over 1,000 square miles of living coral reef.
A Mecca for divers from all over the world, the Turks & Caicos Islands are known for their expansive underwater visibility, high-voltage wall dives, and the profusion of marine life of all sizes located within their boundaries.
Low annual rainfall and reliable ocean currents contribute to the remarkable visibility, as well as provide nutrients for the many large pelagics common in these waters.
Caribbean reef sharks are common, as are spotted eagle rays, jacks, grouper, and turtles. Also spotted on a frequent basis are blacktips, tiger sharks, hammerheads, and manta rays. Famous for its spectacular walls filled with huge gorgonian fans, barrel sponges, hard-coral arches and macro life, the Turks & Caicos Islands truly offer a dive experience for everyone.
Turks and Caicos Explorer II pricing
$2,995, VIP Staterooms: Queen bed, desk/chair, hanging closet, wardrobe, large window, TV, private ensuite bathroom and shower (couple only). Staterooms 1-2.
$2,795, Main Deck Staterooms: Twin or Queen bed, desk/chair, hanging closet, wardrobe, large window(s), private ensuite bathroom and shower. Staterooms 3-4, twins. Staterooms 5-7, queen or twins.
$2,595, Lower Deck Staterooms: Twin lower and upper beds, dresser, hanging closet, port lights, private ensuite bathroom, and shower. Staterooms 8-10.
Package Includes: 7 nights/8 days aboard the vessel; up to 5 dives daily; 3 meals daily, FREE Nitrox, Private dive guides, KSC staff, T-shirt, Hats, camera use, slide presentations, slideshow, photo disc, dive snacks; towels, linens, etc.; use of tanks, weights and weight belts; all air fills; alcohol & non-alcoholic beverages.
---
Not Included: Port/hotel tax of $95 and a fuel surcharge payable on board. VAT, and transfers, pro or post hotel stays and additional meals. Gratuity for dive staff, round-trip air. Friday's evening meal.
All pricing is in US Dollars, per person double occupancy.