Roatan: Turquoise Bay Resort
Turquoise Bay Resort: The best value for your diving dollar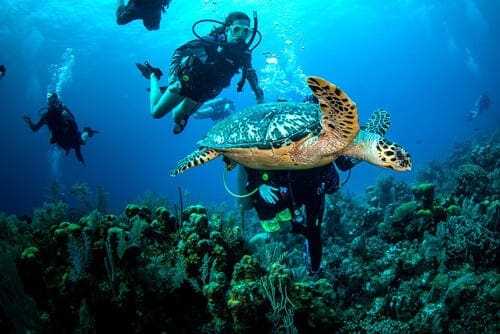 Located on Roatan's Northeast shore Turquoise Bay Resort is the only dive resort in this lush and remote area of the island. The resort's location provides you with the opportunity to dive uncrowded, pristine dive sites. The resort is set on a sweeping hillside with spectacular ocean views and a protected bay which makes the water calm and perfect for swimming and kayaking. Beach lovers will enjoy our private, tranquil, 500 ft white-sand beach.
The all-inclusive KSC week: June 29th to July 6th
Roatan, the largest of the Bay Islands in Honduras. Discover an island with the authentic Caribbean and Latin American lifestyles. The Islanders are warm and friendly greeting you wherever you go. Everything is good on "island time."
At Turquoise Bay Dive & Beach Resort you will enjoy the very individual and personal service that only a small dive resort can offer. Their friendly local staff takes pride in getting to know their guests and making them feel at home. In fact, by the end of the week, you very much feel you are a part of the resort's island family.