Roatan: Turquoise Bay Resort
The best value for your diving dollar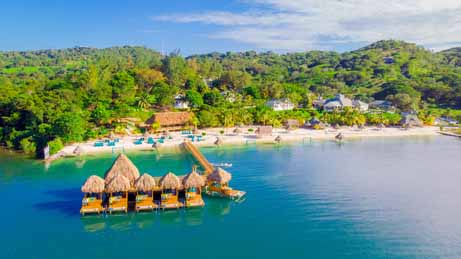 Located on Roatan's Northeast shore, Turquoise Bay Resort is the only dive resort in this lush and remote area of the island. With its very own private white sand beach and a private bay, this location provides you with the opportunity to enjoy your family and friends without the crowds or noise that other resorts endure. You can dive uncrowded, pristine dive sites every day.
Roatan is the largest of the Bay Islands of Honduras. Discover an island with the authentic Caribbean and Latin American lifestyles. The Islanders are warm with friendly greetings you wherever you go. Everything is good on "island time." in Roatan.
2020 week: June 27th to July 4th
2021 weeks: March 13th to 20th and June 12th to 19th
The resort is set on a hillside with spectacular ocean views and a protected bay which makes the water calm and perfect for swimming and kayaking. Beach lovers will enjoy our private, tranquil, 500 ft white-sand beach. You will enjoy the very individual and personal service that only a small dive resort can offer. The resort's friendly local staff takes pride in getting to know the guests and making them feel at home. In fact, by the end of the week, you very much feel you are a part of the resort's island family.
We can arrange reservations here year-round for our individual family trips, your small group trips and all your other dive trip needs. This resort is perfect for small private groups and can cater to any food needs, training needs, etc. There is also world-class Bonefishing and Tarpon fishing around the island. Roatan is also known for it's deep-sea chartering. We can arrange private charters or fly fishing adventures while you are on the island.
Groups of 10 or more can get 2 free spaces. Give us a call today to book your Kids Sea Camp week or your next family dive vacation. 803-419-2556