More Information
Liveaboards
We provide customized luxury liveaboard family adventures around the world
Family Dive Adventures is your home for the underwater world, your playground, and your classroom
We customize small groups, full or half boat charters to meet all your needs. At Family Dive Adventures and Kids Sea Camp, we have created a sense of wanderlust by fulfilling your family's thirst for knowledge and love of adventure for over 20 years. It's our choices for remote destinations that bring vibrant cultures into your children's lives, we have created a home aboard the world.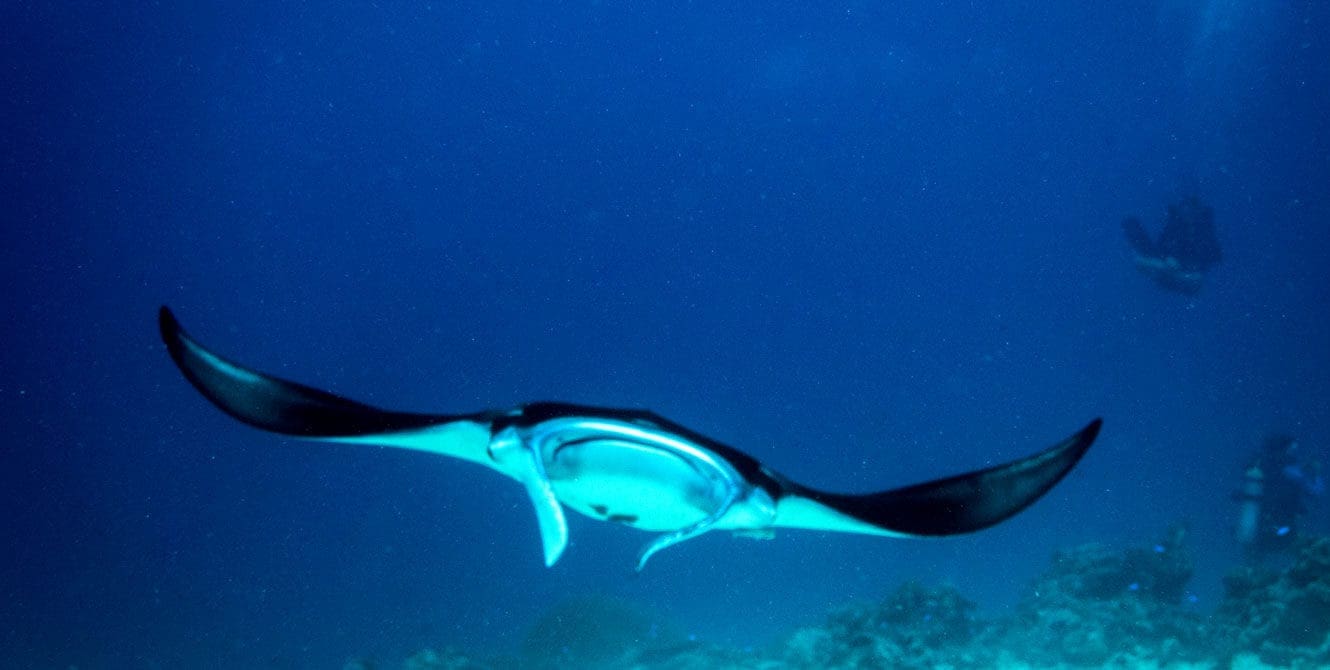 Our depth and knowledge of family exploration through diving combined with the highest level of safety and adventure now includes; liveaboard dive travel for families around the world. We have the expertise to create any itinerary and crew to serve all your needs. We provide private training, private instructors, photography focused weeks and more. Tradition of ultimate service and premier diving adventures into remote and seldom-visited corners of the world.
When you book with Family Dive Adventures your booking with a company that has been serving dive family for 20 years. We have the best reputation in the dive industry when it comes to dive travel for families, adults, and kids. We are #1 in service and safety.
With over 7,500 youth certification, we know your dive needs and we know the family better than anyone. At Family Dive Adventures, we answer our phones and you can talk to a dive instructor, travel expert and someone who can answer your questions.
The liveaboards we offer below, are the liveaboards we feel are family-friendly and able to meet your needs. We know you have plenty of choices out there to book your dive trips, and we work hard to keep your trust and exceed your needs.
Give us a call today to book your next adventure. I look forward to planning your next dive trip today. 803-419-2556. President, Margo Peyton
---
The Arenui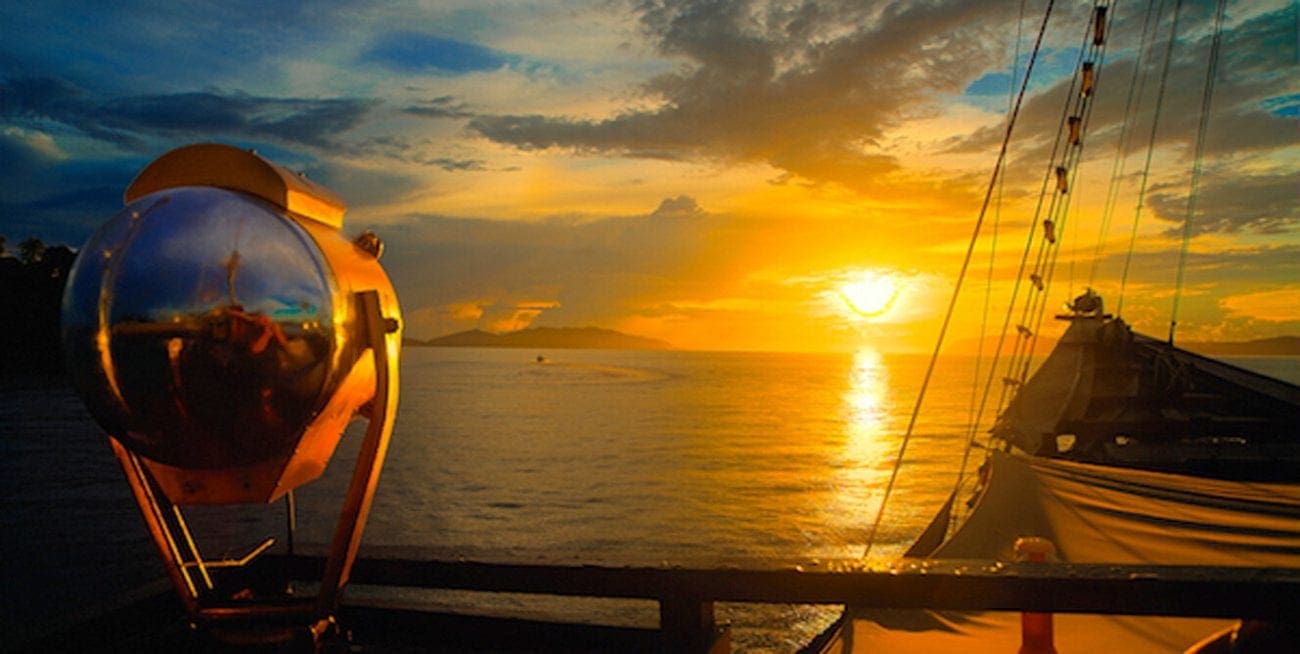 The Arenui liveaboard prices starting from $6,450 depending on length of trip and destination. The Arenui liveaboard is a stunning wooden vessel that offers a taste of the local traditional Indonesian culture. But the ship is fitted it with all the modern conveniences of a luxury hotel. The Arenui has a luxury restaurant serving international and local cuisine (evenings are waiter-served a-la-carte) and added both an outdoor sky restaurant and a top-deck sky lounge for massages, sunbathing, relaxing and enjoying the island views. The Arenui travels to Raja Ampat, the Forgotten Islands, Komodo, and Alor. See videos of the amazing of the Arenui.
It has an enthusiastic local crew, including 2 highly sought-after chefs and 4 eagle-eyed dive guides, to join 4 western cruise directors, adding up to 23 members of the Arenui onboard team providing a truly personalized service for only 16 guests. Check out Family Dive Adventures with the Arenui in 2021, 2022, 2023 and 2025.
How about on diving the stunning Indonesian archipelago, a true remote paradise, packed with 5-star dive sites to match the 5-star liveaboard and crew? Indonesia offers everything from healthy coral reefs to sandy critter hide-outs, with so much to see that one trip is never enough. Dive Komodo for incredible diversity from frogfish and nudibranchs to schooling jacks and mola-mola (oceanic sunfish), then travel to the untouched reefs of Alor and Flores, before heading into the Banda Sea to dive the wonders of Maluku (and visit the famous Spice Islands) but don't forget to make time for Raja Ampat and its world-famous gorgonian sea fans, enigmatic wobbegong sharks and manta rays.
Why book the Arenui?
A truly boutique liveaboard, with attention to detail and personal service
Diving the best of Indonesia, including key hotspots Komodo and Raja Ampat
High quality, high standards and a long-term approach to developing a reputable liveaboard diving business
Only 8 cabins, so 16 guests, served by 22 professional and friendly crew members
Mouth-watering meals from full breakfast and buffet lunch to a-la-carte 3-course dinner, plus delicious snacks
Arenui combines the adventure of diving with relaxation and pampering of spa and massage in a stunning setting
Diving with knowledgeable guides in small groups (2 western cruise directors, 3 local dive guides)
In Komodo (now one of the new 7 wonders of nature), expect exhilarating drift diving, pelagics as well as critters, hot and warm water and even dive in the shadow of an underwater volcano
Alor (best-kept secret in diving), offers unexplored coral gardens and untouched reefs, rhinopias, anemones, and many unusual critters, plus an active volcano which erupts every 30 mins
In Maluku, explore a reef teeming with hundreds of sea-snakes and look out for incredibly rare critters (if lucky, the psychedelic frogfish) and dive one of deepest seas in the world (Banda)
Raja Ampat is the epicenter for biodiversity, at the center of the Coral Triangle, home to the most colorful, pristine and photogenic soft coral reefs, as well as walking sharks, mantas and pygmies
Take out one of the kayaks to see the islands up close Visit local villages and meet a living dinosaur (Komodo dragon)
There's so much to see in Indonesia, underwater and on land, that one trip will never be enough!
DAN: Dive accident insurance (to include medical evacuation) is mandatory for divers of all ages on all our trips: please bring your certificate as proof.
---
Galapagos: Humboldt Explorer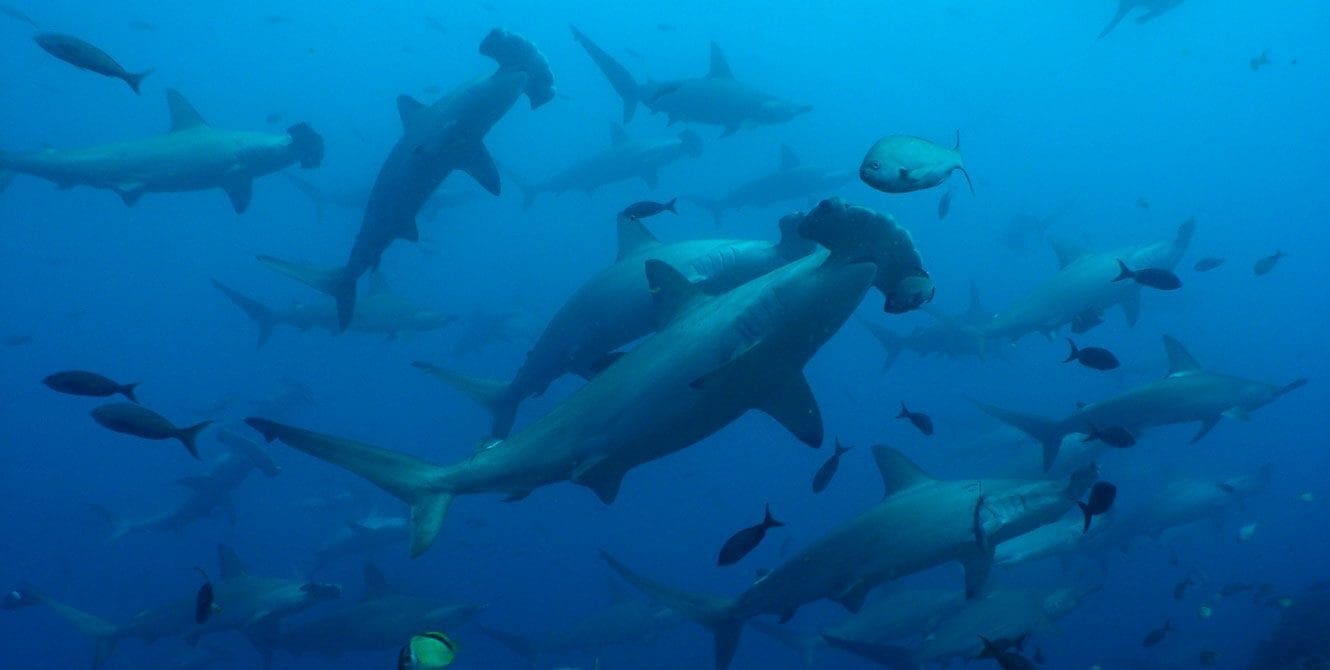 Cabins from $5,495 per person on the world-class liveaboard diving onboard the Humboldt Explorer liveaboard schooling hammerheads, whale sharks, rays, Galapagos sharks Marine iguana, penguins, seals, dolphins and an abundance of fish North Seymour Island – large colonies of blue-footed boobies and frigate birds Santa Cruz Highlands to visit the land tortoises at the Darwin Centre. Check out the Kids Sea Camp week in 2021.
What's included
7 nights/8 days aboard the vessel
Up to 4 dives daily (weather permitting)
3 meals daily, except Sunday's evening meal
between-dive snacks; towels, linens, etc
use of tanks, weights, and weight belts;
All air fills; transfers within Galapagos Islands for same-day arrivals & departures;
local alcohol and non-alcoholic beverages. Rates may increase for existing reservations and will be confirmed no later than 12 months before the charter departure date.
Link View Video: Humboldt Explorer
DAN: Dive accident insurance (to include medical evacuation) is mandatory for divers of all ages on all our trips: please bring your certificate as proof.
---
St. Maarten, Saba, and St. Kitts: Caribbean Explorer II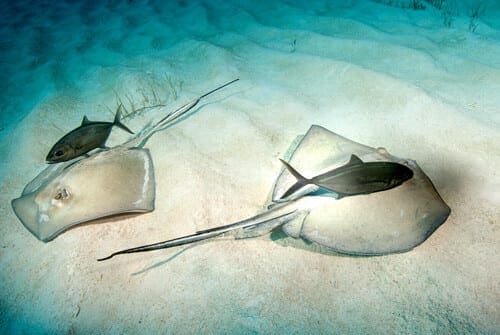 Starting from $2,095 per person: The only boat offering liveaboard safaris to St. Kitts, Saba and St. Maarten. 3 islands to discover above and underwater Warm, turquoise waters teeming with Caribbean reef sharks, turtles, nurse sharks, schools of fish, stunning coral, great visibility, breath-taking topography, and wrecks. Land excursions are perfect for families who want to get off the boat in the afternoon. Air-conditioned salon and on the deck with ample room for sunbathing. View video Caribbean Explorer 11
Diving in the Northeastern Caribbean will surprise you, the variety of dive sites that we visit weekly will amaze you! The weather in the Northeastern Caribbean is remarkably consistent year-round. The temperatures range from the 70's F or higher in the winter months to the low 90's F during the summer, with nearly constant sea breezes.
Water temperatures range from a low of about 76 degrees F in winter to a high of about 85 degrees F in summer. There is normally little appreciable current at the sites we visit, and visibility is generally between 50 and 150 feet. Most divers are comfortable with a 3mm wetsuit. Your dives will be done from the easy-access dive platform.
What's included
7 nights/8 days aboard the vessel;
Up to 5 dives daily (weather permitting)
3 meals daily, except Friday's evening meal; between-dive snacks
Towels, linens, etc.
Use of tanks, weights, and weight belts
All air fills
Alcohol and non-alcoholic beverages.
DAN: Dive accident insurance (to include medical evacuation) is mandatory for divers of all ages on all our trips: please bring your certificate as proof.
---
Maldives Atolls
Emperor Explorer Liveaboard: From $,2,450 (7 nights) or (10 nights) $3,550. 6 Days Itinerary: Best of the Maldives; Rasdhoo Atoll, North & South Ari Atolls, Vaavu Atoll, North & South Male Atolls. Airport/hotel transfer included if on embarkation and disembarkation day. The Emperor is a newer boat setting sail in 2016. Check the special "Empty nester" in October 2021.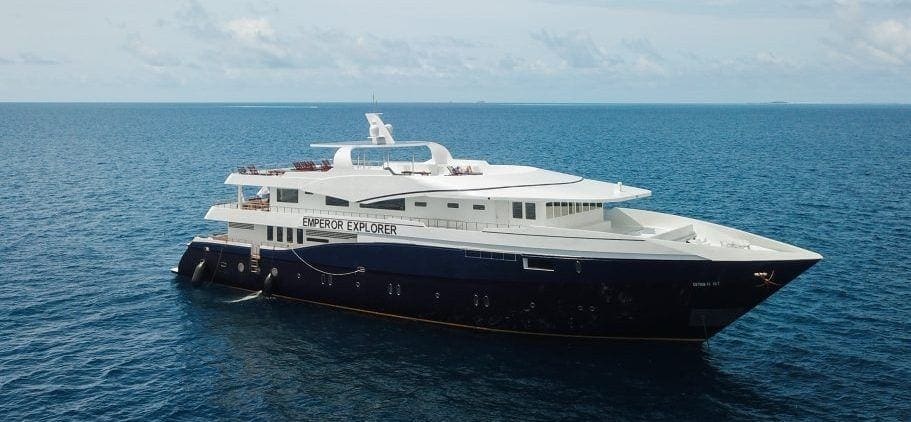 What's included
Pre – hotel night stay in MLE for 1 night
Transfers to and from the airport to the hotel and back to MLE airport for domestic transfers
Diving in the best locations of the Central and Southern Maldives
Manta cleaning stations,
whale sharks, hammerhead, reef, and thresher
Special manta itineraries in collaboration with Manta matcher
Highly trained and dedicated staff to ensure the ultimate diving
Salon and lounge area equipped with a flat-screen TV and entertainment system.
Stunning decks to relax and enjoy spectacular views of the Indian Ocean.
Internet, nitrox, dive courses
rental equipment available
Single person staterooms available with queen size bed
DAN: Dive accident insurance (to include medical evacuation) is mandatory for divers of all ages on all our trips: please bring your certificate as proof.
---
Indonesia/Wakatobi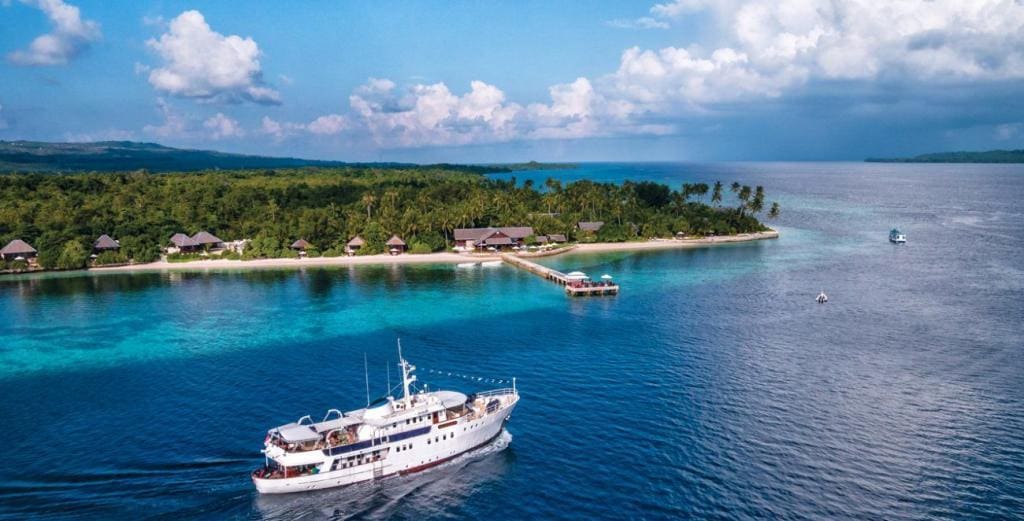 The Pelagian liveaboard: From $3,395 per person. Dive the islands around Wakatobi in amazing luxury. You have not experienced luxury diving until you have experienced Pelagian. There are 7 or 10-night cruises or combine with a 3, 5 or 7-night stay at Wakatobi dive resort. There is a maximum of only 10 guests. Perfect for 2 families, or 5 couples or a romantic cruise for 2 or 4.  See video of Pelagian liveaboard
What's included
5 diamond diving with 5 diamond personal service,
Exclusive amenities: private guides, private chef, private toys,
Multilingual instructor level dive guides
Private jet service available from Bali international airport into Tomia with transfer to Wakatobi
More space per guest than any dive yacht of its kind
Well-equipped and spacious camera rooms, decks and cabins
With a private charter, you can go to Komodo, Raja Ampat and explore the region. 
Round Trip Air from Bali not included. Prices from $675pp
DAN: Dive accident insurance (to include medical evacuation) is mandatory for divers of all ages on all our trips: please bring your certificate as proof.
---
Mexico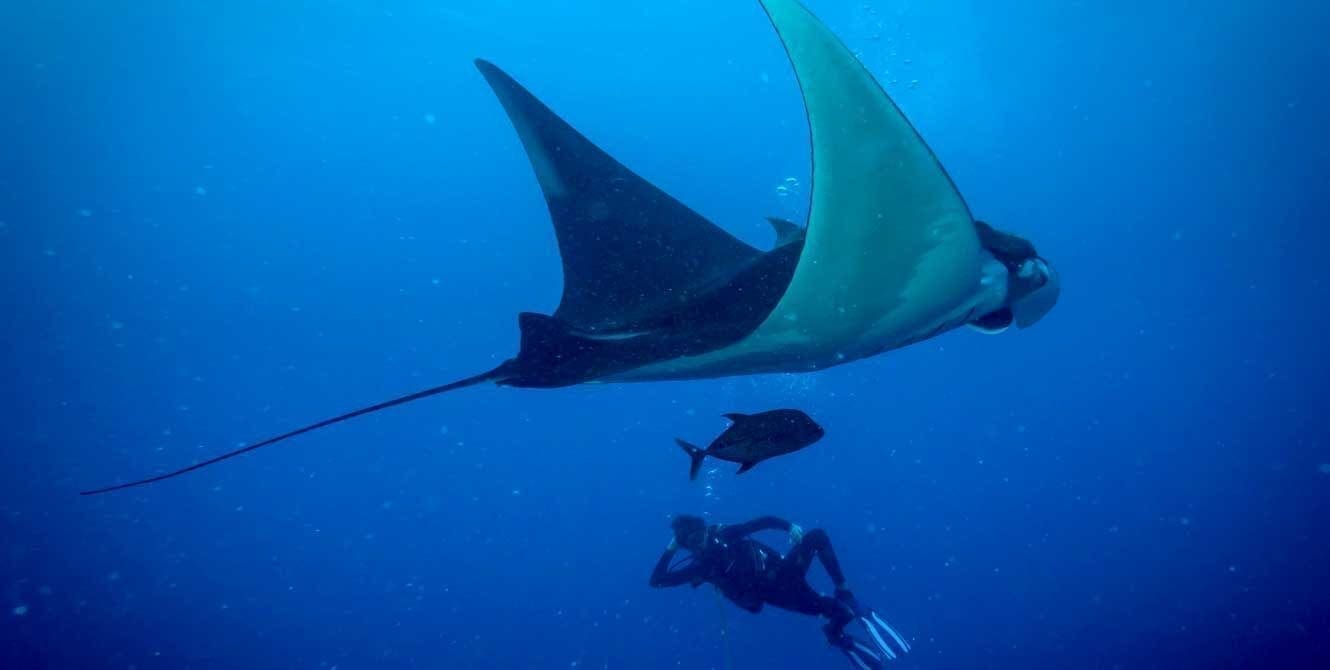 Socorro: Rocio Del Mar liveaboard; $3,995 per person cabins. Join a trip for fantastic large animal diving Dive in Socorro with friendly giant oceanic mantas and large pelagic fish such as; Humpback whales, whale sharks, dolphins, hammerheads Galapagos sharks, tiger sharks, and silky sharks. Citizen Scientist trips with marine biologists specializing in whales, mantas, and sharks. The 3 islands that we regularly visit are; San Benedicto, Socorro, and Roca Partida. The Socorro Islands are only accessible from November through the end of May on the Rocio Del Mar. See a video about diving in Socorro islands.
What's included
9 days with 6 full days of diving
Three meals per day, snacks, beverages including soft drinks, juice
Domestic beer and wine.
Tanks, weights and weight belts
The normal full boat capacity is 20
The trip minimum is 10 divers
Please plan on arriving a day prior to your scheduled date of the trip.
Please be advised that we will depart from the San Jose del Cabo Marina on the first day of the trip at 8 a.m., for a 9 a.m., departure. Rocio Del Mar strongly advises that all passengers arrive in San Jose Del Cabo (SDJ) a day prior to departure.
Please Family Diver Adventures the office for hotel referrals in Cabo.
DAN: Dive accident insurance (to include medical evacuation) is mandatory for divers of all ages on all our trips: please bring your certificate as proof.