More Information
Indonesia
Wakatobi Dive Resort
Whether you are diving or snorkeling among our vibrant protected coral reefs bristling with marine life, enjoying a rejuvenating spa, taking in a glorious sunset with your favorite cocktails at the jetty bar, or perhaps indulging in a romantic beach dinner, Wakatobi is a true north — one of a kind of experience. See Gallery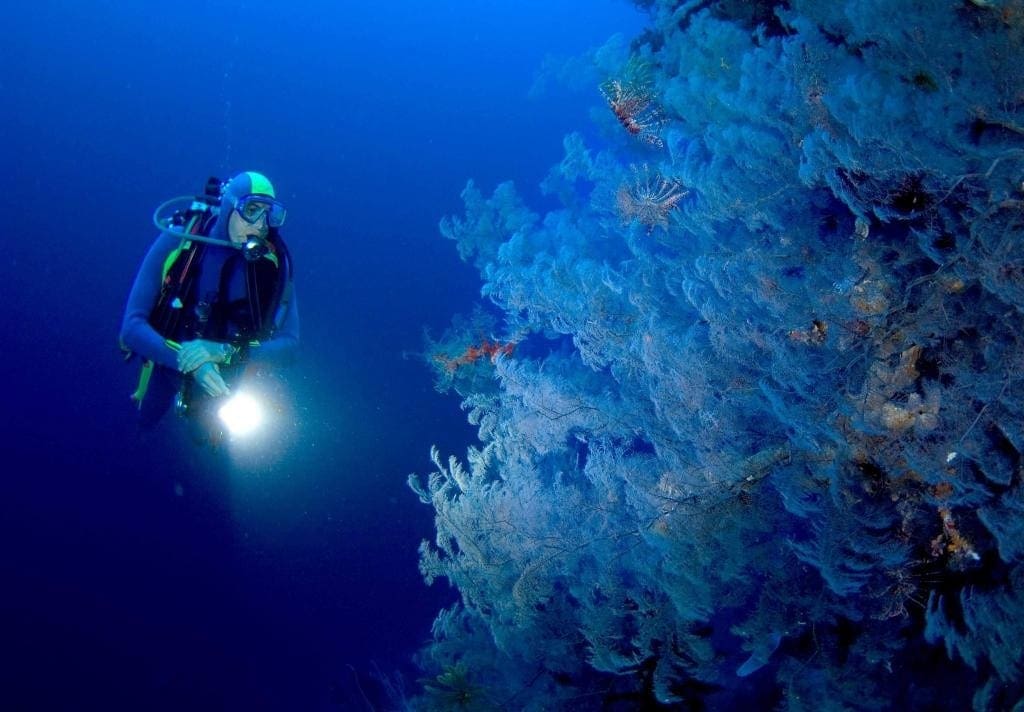 Location: You will enjoy the tranquility and secluded area of Wakatobi; no traffic noise, no pollution, no other dedicated dive resort for hundreds of miles. Their private charter flight will transport you from Bali to their purpose-built airstrip in less than three hours, followed by a short boat ride to the resort and your vacation will indeed begin.
Located in Southeast Sulawesi, Indonesia (Southeast Asia) Wakatobi is easily accessible from the US or Europe. Many airlines offer flights to one of the major cities in Asia with transfer on to Denpasar, Bali which is the gateway (as well as the most amazing and beautiful stop on the way) to Wakatobi.
The private air charter brings you from Bali to the resort's purpose-built airstrip in a two-and-a-half hour flight over breathtaking tropical island scenery, after that it's a short drive and boat ride to the resort. A light meal is served on the flight and you will be assisted with all checked baggage.
Diving: Wakatobi was created with the vision to deliver the ultimate dive experience and was established following an extensive search to identify the perfect location for a dive resort regarding geography, climate, oceanic topography and marine biodiversity. To ensure its future we then created one of the world's largest privately protected marine reserves. That gives you some idea of the extent to which we will go and the attention to detail that goes into every aspect of the Wakatobi experience.
Having identified the premier location, they have developed a resort that, despite its remote position, offers a plenitude of facilities and comforts to make a dive trip, and all that surrounds it, an experience that you will cherish.
Marine life: Wakatobi is located at the world's epicenter of coral reef biodiversity. This means that while diving at Wakatobi you can see the greatest variety and diversity of marine life. New and undocumented species continue to be discovered at Wakatobi. The 'signature dish': shore diving the world-famous House Reef. Some guests never go on a boat dive because the reef and wall right in front of our resort provide enough territory and diversity to keep them exploring for several days. There is no need to swim long distances. Wakatobi offers 'taxi-boat' services to transport you to and from extended parts of the house reef.
Fluo diving: Experience an exclusive new dimension in diving and see corals in this totally new light! Fish suddenly speak and coral communicates through fluorescence.
Night diving – any night: Night diving at Wakatobi is fantastic! One or two night dives (depending on the length of the trip and weather) will be from the boats. You can dive any night on the house reef in front of the resort (unguided buddy teams). Simply gear up in the diver preparation area and walk-in off the beach. Night dives should be finished at the latest by 10.00 p.m. but special arrangements can be made to dive at other hours. There are more than 40 sites that can regularly dive, all are accessible by day boats. Boat rides range from 10 minutes up to a maximum of an hour for a few of the furthest sites.
---
Contact Family Dive Adventures directly for current information and pricing. Pricing is not guaranteed until paid in full. Package prices may not include some or all of the following: departure tax, round-trip airline reservations, luggage fees, gov't taxes, port taxes, fuel surcharges, and marine park fees. These are beyond our control and generally payable to the vendor directly. Family Dive Adventures and its agents act solely as a reservation service for selected suppliers and operators. It is your responsibility to provide proper documentation for international travel. We highly recommend DAN Trip Insurance and DAN Dive Insurance.
---
Wakatobi Dive Resort
*Villa stays include
Butler (Private Resort Experience Manager)
Private Guide (Private Dive/Snorkel Experience manager)
One Fluo experience or test drive of Seacam/Canon 5D UW setup for two dives
All categories include
Delicious and varied gourmet meals (breakfast, lunch, and dinner) with care to cater to special diets
VIP greeting & assistance upon your arrival in Bali
Your resort accommodation
Free WiFi high-speed internet access via satellite
In-room amenities such as mini bar, coffee pot, towels, hairdryer and safe
24 hours tea/coffee / hot chocolate/drinking water, and daily snacks
Aromatherapy bath products in all rooms
Optional Village Tour on last day
24/7 management on staff
Daily housekeeping service
*Two-bedroom villa, additional adult: $320
---
Resort activity packages
3 x 70 minute guided boat dives/snorkels a day, on world-class protected reefs, and unlimited shore diving with shore-supervision, and taxi boat cover
House reef tender boat taxi service. (choose when and where you want to dive our famous house reef)
Pelagian activity packages
4 x 70 minute guided dives/snorkels from twin-engine tenders
Both packages
Snacks, drinks, and towels provided on the boats
Full porterage for dive / snorkel gear / cameras
Dive valet for rinsing and drying gear
A substantial contribution to the award-winning conservation program
24/7 management on staff
Daily housekeeping service
| | |
| --- | --- |
| Per person, per day (All in US dollars) | Per person, per day |
| Diving | $195 |
| Snorkeling | $145 |
| Private Dive/Snorkel Experience Manager (4 days min)* | $225 |
| Child & teen pricing > | |
Pelagian Luxury Dive Yacht
Max of 10 guests on board. Private itineraries, custom groups and full boat charters available. Call Margo 803.419.2556 today for details.
Here is what is included
Delicious and varied gourmet meals (breakfast, lunch, and dinner) with care to cater to special diets
VIP greeting & assistance upon your arrival in Bali
Your chosen accommodation on Pelagian
In-room amenities such as towels and hairdryer
24 hours tea/coffee / hot chocolate/drinking water, and daily snacks
Aromatherapy bath products in all cabins
Optional Village Tour on last day
PASSPORTS & DOCUMENTATION:
All travelers must have a current passport, adequate funds to support themselves, and a return airline ticket to travel out of the USA. Travelers must have a passport that is valid for 6 months from the date of entry to any foreign country.
It is the travelers' responsibility to ensure they have the proper documentation to travel into each country on his or her itinerary as well as for re-entry and return to their country. Please check with the appropriate consulate as well as your chosen airline carrier to ensure you have the proper documentation. Always check your passport and visa requirements. US citizens may go to the US Department of State website at www.travel.state.gov for more information. The website also has information for consulates by country to assist with requirements.
There are special requirements for children leaving the US and many countries have adopted special requirements for the protection of children. If you are traveling with a child that is not your own, a single parent with a child, a child with a different last name, or traveling without both natural parents of the child, you will require documentation proving your right to travel with children. Since regulations vary by country, contact your consulate or embassy of your country and visit the immigration site of the country you are traveling to for the requirements. Kids Sea Camp Reservation Office and staff will not assume responsibility for passengers not having the correct documentation.