More Information
Family Dive Adventures
We create dream dive vacations!
Family Dive Adventures customizes individual family trips, created to meet your families individual expectations and needs. We know how to build your families vacation.
EXPERTISE: We are family owned and family operated. We were rated The Travel Channel's Best choice for family travel. Our specialty is understanding and meeting the needs of each individual family member from age 5-75. We inspire families to travel and create memories that will last a lifetime. Family Dive Adventures was created for families that expect more from a dive vacation: education, safety personalized service and fun for each traveling family member.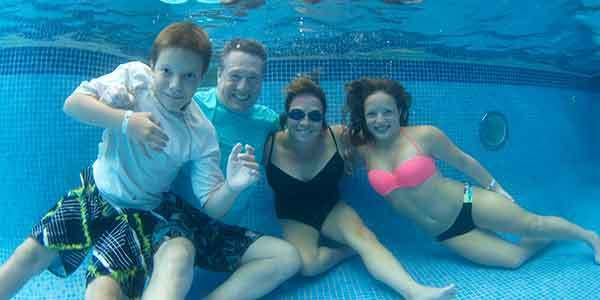 We are the US reservations for family travel, family packages, and kids diving programs for each of our dive resorts.provide year-round reservations on our Family Dive Adventures pages. We have handpicked and custom designed family dive packages to provide individual families that want to travel on their own. These are not Kids Sea Camp weeks. But, we provide you the same care and professionalism that we do with our Kids Sea Camp trips.
The main difference between a Kids Sea Camp vacation and a Family Dive vacation is that with KSC trips you are guaranteed to have our staff and other KSC families and kids on the same trip. With Family Dive Adventures, it's just you and your family. We will customize your vacation your way. Family Dive Adventures puts everything in place to keep your family safe and having fun the way you have come to expect. Our level of care is unmatched in the dive industry.
TRUST: Over the many years of traveling with us, families have learned that we put our focus on the safety and security of your children first. We put our family stamp of approval on everything we provide.
YEAR-ROUND RESERVATIONS: We provide dive travel reservations year-round to a select group of family-friendly PADI resorts around the world.
OUR MISSION: Family Dive Adventures mission is to inspire families to travel and learn about our big blue underwater world. We want to encourage them to become educated divers. And divers who will be enthusiastic about sharing their love of the ocean. We strive to help them to become confident divers who will protect our underwater world the rest of their lives.
DISCOUNTS: Your diving dollar is our diving dollar. Book through us! We want you to save time and money. Family Dive Adventures and Kids Sea Camp created the Frequent Traveller Discount.
WHAT IS THE FREQUENT TRAVELLER DISCOUNT: Book through us! We will give you 5% off the total price of your package. Whatever package you see on our site or any other site, we will match it and provide you an additional 5% discount.
THANK YOU FOR SERVING: We waive all change/cancellation fees for the military (Thank you for serving and provide all active military personnel a 10% discount.) Padi Pro instructors, Fire Fighters, School Teachers, Police officers and Senior Citizens all receive a 10% discount when they book Kids Sea Camp or an individual family dive vacation through us. Discounts can not be combined. One discount or promotion per person and current active ID is required at time of reservations).
QUALITY: With over 30 years of experience in the dive industry and teaching and diving with kids. Kids age 5-7 can participate in a program called SASY. Kids age 8 & 9 Seal team, Kids age 10 and up to 15 can do Jr. Open Water and kids age 15+ can get certified to dive and also enjoy over 15 specialty courses that are fun, educational and even college accredited. We have selected resorts with family-friendly staff that will take their time to serve you and professionally provides training, support, and guides you in the water.
We cater to both beginner and advance diving families. Our companies have great long-term relationships with the resorts around the world. These resorts we have chosen to work with and they have requested us. Family Dive Adventures act as their family experts and reservations services.

Give us a call today to book your next great adventure 803-419-2556.