More Information
Family Travel Tools, and Tips
Passports & Documentation
All travelers must have a current passport, adequate funds to support themselves, and a return airline ticket to travel out of the USA. Travelers must have a passport that is valid for 6 months from the date of entry to any foreign country. It is the travelers' responsibility to ensure they have the proper documentation to travel into each country on his or her itinerary as well as for re-entry and return to their country. Please check with the appropriate consulate as well as your chosen airline carrier to ensure you have the proper documentation. Always check your passport and visa requirements. US citizens may go to the US Department of State website at www.travel.state.gov for more information. The website also has information for consulates by country to assist with requirements. There are special requirements for children leaving the US and many countries have adopted special requirements for the protection of children. If you are traveling with a child that is not your own, a single parent with a child, a child with a different last name, or traveling without both natural parents of the child, you will require documentation proving your right to travel with children. Since regulations vary by country, contact your consulate or embassy of your country and visit the immigration site of the country you are traveling to for the requirements. Kids Sea Camp Reservation Office and staff will not assume responsibility for passengers not having the correct documentation.
Travel Advisory & Visas
Travel Tools
Travel News
Reference Links
Airline Baggage Restrictions
Alaska Air
Egypt Air
Qatar
Turkish Airlines
United Airlines
Live Flight Tracking
BEFORE YOU TRAVEL: Email yourself your travel Itinerary, & Documents. Scan a copy of your passport, credit cards, itinerary including air, hotel, car and keep a folder that you can access with your phone in case any documents are lost or stolen.
PROPER DOCUMENTATION FOR TAKING KIDS ON INTERNATIONAL TRIPS: There are restrictions and laws for documentation for traveling with children that are not yours, or different last names, and even with only one parent traveling. Make sure you check with your airline and immigration.
ENROLL IN AIRLINE FREQUENT FLYER PROGRAMS: Memberships can include extra baggage and weight allowance. Enroll in Global Entry for faster transit through long lines.
CHECK YOUR DATA PLAN FOR YOUR SMARTPHONE: Your Phone will cost you unless you buy an international data plan.
CHECK YOUR INSURANCE COVERAGE: Make sure you have the inclusion of international coverage for; travel, health, dive accident etc. Make sure you have copies of all of your cards with you and that someone besides yourself knows where they are.
EMERGENCY CONTACT Communicate to your emergency contact what your travel plans are.
Please note that any external links are provided for information purposes only: Kids Sea Camp can't be held responsible for the content or accuracy of external sites. Make sure your passport is valid at least six months beyond the date on which you plan to leave the country. Dive accident insurance (to include medical evacuation) is mandatory for divers of all ages on all our trips: please bring your certificate as proof Travel insurance and trip cancellation insurance (to include storm coverage where appropriate to the type of dive vacation booked) are strongly recommended
It's important to pack appropriately when traveling with kids on long hauls.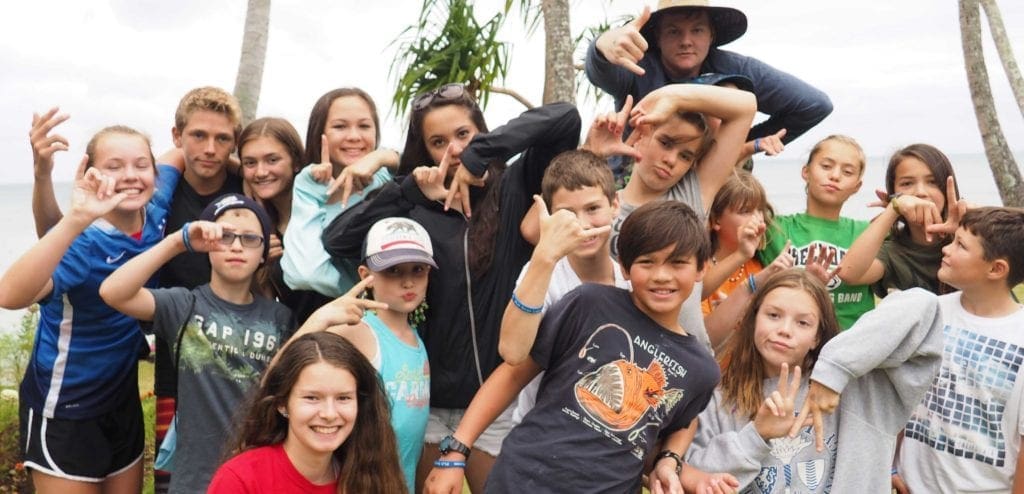 Airport Tips: We all know that airports can be a hassle these days but a little planning and preparation can make a big difference. Try these tips to help you breeze right through.
Before Your Trip
Check your legal names, itineraries for seat assignments and make any ticket changes you need.
Handle any special needs you might have before you get to the airport.
Check to make sure the contact information we have for you is right.
Take care of passports, visas, and any important papers you might need way ahead of time.
Review our Check-in Options to see which is best for you
Use our online Check-in tool and self-service kiosk to avoid long lines at the airport.
Know the check-in requirements for your airport.
Know the requirements for the security checkpoints where you'll be traveling.
Check security checkpoint wait times and allow plenty of extra time for busy holiday periods.
During Your Trip: Check the display screens and monitors in the airport to find your gate. Arrive at the gate early with your boarding pass and eTicket receipt. Keep an eye on the gate display screens that we have in most airports. Listen closely for announcements at the gate.
Make sure to pack a small carry-on with just a few of the following basics for you and the kids
Playing cards, books, puzzles
Drawing paper and markers
Small pillow
Comfortable socks
Toothbrush
Favorite food and snacks for the hotel room. Remember the island does not always have the food kids like. Pack some things like peanut butter, mac, and cheese, cookies, etc.
Bottled water
Adults travel time
Contact solution (if needed)
Sunglasses
Eyeglasses
Sweatshirt for flight
Any medicines needed
Hairbrush
Comfortable clothes
Favorite book
Hand lotion
Chapstick
Pack your personal valuables with you
Single parents traveling with kids outside the country need a notarized letter of "Consent to Travel" prepared prior to departure
Travel documents you need to remember
Passports required: Copies of Passports (have one set with you and leave one at home.)
C-Card for divers
Logbook
Airline tickets
Itinerary
Travel documents
Paperwork and Forms
Waiver forms: If your child has any breathing problems or other medical issues, you need to clearly state this so that we may be prepared to accommodate any special needs. We have in the past been able to create pleasant experiences for special needs children, kids with Asthma, hearing impaired children, some autistic children and we will do our best to make sure any child can experience Kids Sea Camp. Why all the forms? We need this information ahead of time to ensure the safety of your child. You will need a doctors' note letting us know your child can participate in the program you chose. Be prepared in case a bag is lost or delayed. Don't get caught without the things you know you need.
Carry-on suggestions
1 bathing suit
1 set of shorts and a t-shirt
1 set of undergarments
Sun Block
Dive regulator/computer
Camera
Any item you will absolutely need
Prescription medications
Packing for your scuba trip
Plenty of sunblocks
Level 30-45 waterproof sunblock for kids
Insect Repellent
Extra-Batteries
Disposal cameras (underwater).
Converter for electronics. Voltage is generally 210-240
After-sun products, Aloe Vera
Small medical kit
Ear drops
Motrin
Everything in the Kids Sea Camp goodie box
Sudafed
Airborne
Sunglasses
Extra set of contacts
Benadryl
Dive Gear(fins, mask, snorkel, BC, computer, regulator, wetsuit, and log book)
Defog
Laptop to download photos
Socks for use inside of fins – Dive skins are handy
---
Passports and Visas
Passports: American passports are issued by the http://travel.state.gov. You can even download the forms there (be sure to read the instructions carefully to see which application form you should use; there are two forms, DSP-11 and DSP-82).
Each person traveling must have his/her own passport; kids no longer can be in Mom or Dad's passport. The most important thing you'll need for a passport is proof that you were born in the U.S., a birth certificate (Americans born abroad, or naturalized Americans, will need different documents.
There are many details you will need to be aware of if only one parent will be applying for a U.S. passport for a child under the age of 14. The details are all available from the U.S. Department of State. Either both parents must appear together and sign the passport application OR one parent appears, signs and submits the second parent's written a statement of consent authorizing passport issuance for the child OR one parent appears, signs, and submits primary evidence of sole authority to apply.
This requirement of the U.S. government does not change the requirement that other countries impose that require one parent traveling with a child to show proof of custody/permission to travel from the non-custodial parent. Check with the Embassy of the country you will be visiting.
Very important: You will need a passport that will be valid for at least six months beyond the dates of your program for all travel to the British Virgin and Leeward Islands. US citizens can find downloadable passport application and other helpful information on the State Department website. It's a good idea to make a copy of your passport to keep at home while you are traveling in the Caribbean (or anywhere else).