More Information
Indonesia: The Arenui
Komodo and Raja Ampat Family Dive Adventure aboard the Arenui
Live your dive life luxuriously! This magical private yacht charter where the memories we make together will last infinitely longer. We are celebrating our 20th-anniversary with decadent diving in Indonesia and the island of Komodo. This trip is for certified divers and will accommodate nicely adult non-divers too. Aboard the world-famous and luxurious liveaboard the Arenui.
2020 KOMODO: June 26th – July 5th and the second cruise: July 7th – July 15th (8 nights) (SOLD OUT), Hosts, Tom and Margo
(New, 9 nights) 2021 KOMODO — FOCUS: On the Arenui: July 17th – July 26th, From $6,450 per person for regular cabins (There is an upgrade charge of $600 per person for master cabin)Hosts, TBA
(New, 9 nights) 2022 KOMODO — SUMBAWA: On the Arenui: June 24th – July 3rd, From $6,550 per person for regular cabins (There is an upgrade charge of $600 per person for master cabin)Hosts, TBA
(New, 13 nights) 2022 and 2023 GREATER RAJA AMPAT and SORONG: Dec, 22nd, 2022 – Jan 4th, From $9,300 per person for regular cabins (There is an upgrade charge of $650 per person for master cabin): Hosts, Tom and Margo
We are happy to add a pre or post-week at Wakatobi or in Bali, just let us know the length of time you have and we will create a dream vacation. Every year Family Dive Adventures tries to make each year better than the last, our 20th-Anniversary celebration had to have a trip on the Arenui!
We have combined our impeccable service and care with the Arenui 's luxury to bring you a world-class diving trip, with a truly relaxing and luxurious liveaboard experience. On board, you can have it all from gourmet food, personalized service by its 22 member staff to amazing colorful critter-packed, large schooling fishes and large pelagic encounters. Photo classes and free cameras to use all week. Give Margo or Tom a call to answer all your questions.
The Arenui Liveaboard yacht is designed with a spacious boutique style cabins that once again invite guests to enjoy the country they're visiting (local handicrafts and inspirations). There is a luxury restaurant serving international and local cuisine on board (evenings are waiter served a-la-carte) and an added both an outdoor sky restaurant and a top-deck sky lounge for massages, sunbathing, relaxing and enjoying the island views. Serving you aboard this luxury yacht, a well trained and enthusiastic local crew, including 2 highly sought-after chefs and 3 eagle-eyed dive guides, to join the 2 western cruise directors, adding up to 22 members of the Arenui onboard team providing you with truly personalized service for up to 16 guests.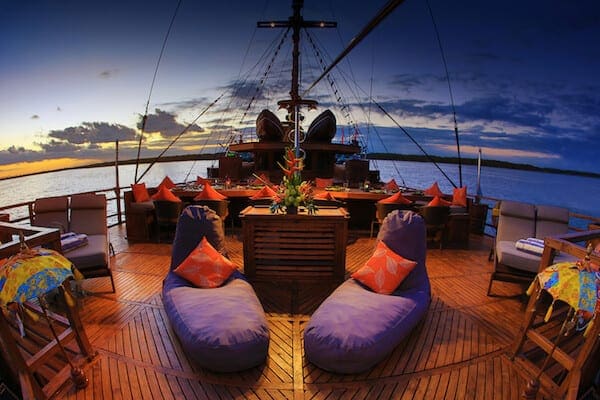 Where are you going: Komodo is one of Indonesia's most famous diving destinations. Manta rays, sharks, immense schools of fish and colorful reefs are just a few of the stars of Komodo.
Komodo is relatively remote but if you want an adventure and incredible diving it should be at the top of your bucket list. Expect to find an array of dive sits perfectly suited for drift diving. Water temperature can be chilly, sometimes dipping below 77°F (25°C), so bring extra layers of neoprene or a hood on top of a basic 3mm suit to stay warm. It is possible to dive year round due to the dry weather.
The north area of Komodo National Park is a good place for shark spotting at underwater seamounts. Visibility is usually quite good at 66-100ft.
One of the most interesting dive sites is Makassar Reef. This is a 1.2mile (2km) channel with a unique seascape featuring craters and dunes of small rocks which have been shaped by currents. It is often said that it looks like the surface of the moon. For macro lovers, Komodo National Park has plenty to offer as well. Sheltered dive sites boast myriad critters hiding amongst slopes and walls of healthy hard and soft corals.
What you'll see: Komodo is famous for its larger inhabitants; think manta rays, sharks, eagle rays, large schools of tuna, jacks, trevallies, bump head parrotfish, and Napoleon wrasse – but the abundance of smaller fish is phenomenal – prepare to be amazed. Komodo is a UNESCO World Heritage Site and one of the New 7 Wonders of Nature.
Who can go: This trip is for certified divers only.
What's included
Private guides
T-shirt/ hats
Free underwater camera use while diving
Slide presentations and photo slideshow of your trip
Professional photos to take home
Professional representation from Family Dive Adventures
The shore activities/excursions according to the program
Soft drinks and all meals on board
Diving activities (generally 4 dives per day)
Tanks, weights and weight belt
Transfer from/to embarkation/disembarkation airport
Port Clearance Fee
Park and Diving Fees
Fuel Surcharge
Exclusions
International and domestic air transportation
Hotels and meals before and after the cruise
Alcoholic drinks
Nitrox ($190 per trip per diver)
Dive equipment rental (other than tanks, weights and weight belt) $40 per day(reg, BC, FMS, Computer)
Massages and Spa treatments
Travel insurance
Onboard purchases
Private tours
Laundry
On-board telecommunications
Crew gratuities approximately 10% recommended
VAT 7%
How to get there: (Labuanbajo-Labuanbajo)
This cruise starts or ends in either Labuanbajo (LBJ). For reaching/leaving Labuanbajo, we recommend using Bali as the hub as there are regular direct flights between Bali and Labuanbajo, using the airline Garuda (1 hour 35 minutes flight time). You can also use Bali as the connection city if you need to come from or go to other domestic cities such as Jakarta or Manado, or even for regional and international flights.
Terms and conditions
Individual bookings
Booking deposit: $2,000 per cabin
30% of booking is required within 7 days of booking – nonrefundable
70 % is due to 90 days prior to departure – nonrefundable.
Balance due 90 days before your trip departure date is it non-refundable.
Individual booking made less than 90 days before the departure is payable in full at the time of booking.
Cancellation at any stage involves forfeit of monies already paid.
Group charter
Booking deposit $2,000 per cabin – within 7 days of booking it is non-refundable
Second deposit: FDA Group Trip 40% 180 days prior to departure it is non-refundable
Balance due: 90 days before departure – non-refundable. Please don't forget the Admin Port / port clearance charge
---
Arenui does not accept any legal liability for loss or damage to any luggage or dive equipment while being transferred to or from the vessel nor whilst onboard. Arenui will offer any assistance possible to help with any insurance claims for lost or damaged property. Lastly, Arenui doesn't offer refunds in the event of personal injury, airplane delay, mechanical breakdowns, weather, sickness, strikes, war, criminal acts, quarantine, acts of god or if another guest requires immediate evacuation and the vessel must return to port or any other event beyond its actual control. If Arenui cancels the trip prior to departure for any reason a full refund will be given. Please note that you must have a minimum of 6 months left on your passport and one full clean page for your visa on arrival.