More Information
Grand Cayman
The rebirth of Cobalt Coast Dive Resort
Cobalt Coast Dive Resort opened its doors in 2000, and this is their 19th year of providing divers with comfortable accommodations, outstanding meals, and great diving. In 2015, the resort became part of the Clearly Cayman family of dive resorts, which includes Little Cayman Beach Resort and Cayman Brac Beach Resort.
2020 Spring Break: March 14th-21st
We can book your individual family vacation, quick get-aways or small and large private groups. Booking with Family Dive Adventures give you a $100 pp discount off any package. Attend our Kids Sea Camp spring break or summer all-inclusive package and enjoy other kids and families from around the world as we have fully chartered this resort and dive operation for 3 full weeks of families and kids. 803-419-2556 call us for more information or to book your trip today.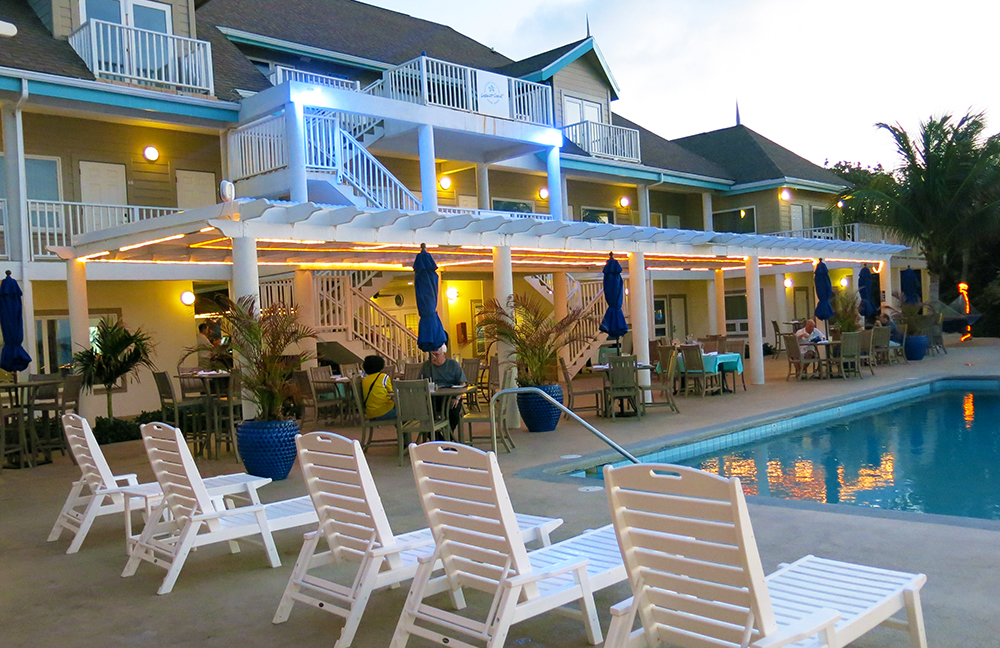 Located in West Bay, Cobalt Coast is at the center of Grand Cayman's most popular diving activities – only minutes away from Stingray City, the Cayman Island Turtle Farm, Seven Mile Beach, and within 125 ft. of shore diving the North Wall, from the ocean dock.
Cobalt Coast is an ideal vacation getaway, located on the Northwest shore of Grand Cayman in a secluded, tranquil setting with spectacular views of the inviting Caribbean Sea. Enjoy spectacular oceanfront seating at our open-air restaurant that serves American-style hot breakfast, lunch with oceanside service, and three-course continental-style dinners while you enjoy a relaxing sunset. Located off the beaten track, Cobalt Coast Resort is unique in that it's conveniently located, with spectacular snorkeling and shore diving accessible just a few steps from your accommodations (weather permitting). See Gallery
2019: Stay and dive or just relax and you'll see why so many guests return to this dive home on the ocean.
The base package for Cobalt Coast
7 nights accommodations
Breakfast
Lunch
Dinner
12 boat dives
Free Nitrox
3 drinks daily, all soft beverages
Complimentary use of dive computer
Airport ground transfers
Resort fees and gratuities (except dive gratuities which are NOT included)
From $1,725 pp + tax (Valid for travel between January 1st, 2018 and December 31st, 2019)
Cayman Escape Package
INCLUDES: 7 Nights' accommodations, breakfast, lunch and dinner Daily, 6 days of 2 tank boat diving, transfers, resort gratuities and room tax, complimentary dive computer for stay, KSC T-shirt, hats, luggage tags
Not Included: rental gear, Nitrox, afternoon dives, night dives, gratuity
Special Offer for Sea Base with Reef Divers: Discounted rental gear Package @ $175 US Per Person Per Week – Includes BCD, Regulator, Wetsuit, Fins/Mask/Snorkel (Regularly $375 per week per person)
Cobalt Coast Resort – Grand Cayman
Standard Room
Double $ 1367.60 US Per Person
Single $ 1678.00 US Per Person
Garden Room
Double $ 1323.80 US Per Person
Single $ 1590.60 US Per Person
1 Bedroom Suite
Double $1425.40 US Per Person
Single $ 1793.80 US Per Person
Triple $ 1376.00 US Per Person
Quad $1351.20 US Per Person
Garden Villas
Double $1425.40 US Per Person
Single $ 1793.80 US Per Person
Triple $ 1376.00 US Per Person
Quad $1351.20 US Per Person
2 Bedroom Suite
Double $1563.20 US Per Person
Triple $1468.60 US Per Person
Quad $1421.00 US Per Person
---
2019 DIVETEC & Lighthouse Point package
For anyone who wants to learn Tec diving, side mount, have a private instructor or Dive Master with you all week. Specialty certifications we provide through dive Tec also include for kids and adults. Certification, Scooter Diver, Wreck diver, Deep Diver, Night Diver, Computer Diver, Lion Fish Hunter and even Rebreathers. Give us a call today . 803-419-2556 Save $100 off any trip you book pp through us.
The more the merrier! Divetech. We have been working with Divetech for 19 years this year. With the purchase of two new boats this year Divetech can now accommodate groups of up to 42 divers.
Experience the best of Grand Cayman diving – the spectacular walls and reefs, and complimentary upgrades for the world famous Kittiwake wreck and popular Stingray City dives. All from the comfort of our popular pink dive boats, docking right at your resort. Included in the package is also unlimited shore diving at award-winning Lighthouse Point reef.
Your customers will be based in comfortable rooms at the recently renovated seaside Grand Caymanian Resort, based in a lush garden setting. The on-site facilities, including a pool and highly rated restaurant, make this package also popular with any non-divers in your group. Getting around the island is easy with the included rental cars, and free hotel shuttles.
This package includes
7 nights stay at the Grand Caymanian Resort based on shared standard Studio (double occupancy)
Rental car
6 days of 2-tank boat trips
Complimentary Kittiwake wreck dive upgrade
Complimentary Stingray City dive upgrade
Complimentary check-out dive
Unlimited air shore diving at Lighthouse Point
Available options
Non-diver rate: $875 per person based on shared Studio (double occupancy)
Single room upgrade: $625 for single Studio
Suite upgrade: $170 per person based on double occupancy
Meal plans: starting at $170 per person (gratuities included)
Nitrox upgrade: $180
Minimum group size 8 customers, maximum group size 42 customers. Please inquire for rates for other group sizes.
Contact Family Dive Adventures directly for current information and pricing.803-419-2556. Pricing is not guaranteed until paid in full. Package prices may not include some or all of the following: departure tax, round-trip airline reservations, luggage fees, gov't taxes, port taxes, fuel surcharges, and marine park fees. These are beyond our control and generally payable to the vendor directly. Family Dive Adventures and its agents act solely as a reservation service for selected suppliers and operators. It is your responsibility to provide proper documentation for international travel. We highly recommend DAN Trip Insurance and DAN Dive Insurance.